Quinoa With Winter Vegetables: A Tasty And Easy Recipe
A protein-rich herbaceous plant, quinoa is packed with nutritional benefits. And yet, many people don't like this little seed. If your kids or spouse won't eat it because it "doesn't taste good", try our easy recipe for Winter Vegetable Quinoa! This tasty preparation might just change their minds.
Ingredients
Here are the ingredients needed to make winter vegetable quinoa for 4 people:

2 glasses of quinoa
3 glasses of cold water
1 carrot
1 shallot
1 teaspoon of turmeric powder
2 turns of pepper mill
2 pinches of salt


To note: quinoa is cooked in 1.5 times its volume of water. It must also be rinsed with plenty of water before cooking. We explain the cooking method of quinoa in more detail below.


Preparation
The great thing about this winter vegetable quinoa recipe is that it's quick and easy to make with vegetables that are available year-round, even in the fall and winter.

But most importantly, it makes this side dish much more flavorful, fragrant and colorful... in short, much more appetizing to anyone who is reluctant to try this little seed!

1- Peel and slice the shallot.

2- Peel and wash the carrot, then grate it with a large-hole grater.

3- Measure the quinoa and rinse it with plenty of water in a sieve until the water runs clear.

4- Measure the water and pour it into a saucepan with the quinoa.

5- Add the chopped shallot, coarsely grated carrot, turmeric and pepper.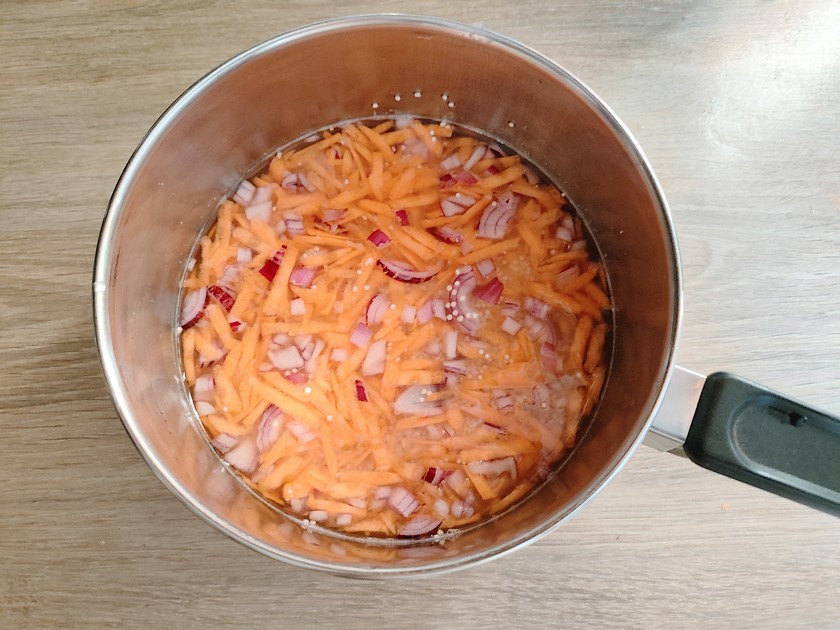 Copyright: Audrey Vautherot
To note:
do not put the salt in the pan as it is best to salt the quinoa at the end of cooking.
Cooking
Cooking is an important step in the success of quinoa with winter vegetables. The way to cook quinoa is special but it is easy if you follow the instructions below.

1- Bring the mixture of quinoa, spices, vegetables and water to a boil.

2- Cook on medium heat and at low simmer for 12 to 15 minutes. Add salt at the end.

3- The seed is cooked when it becomes translucent and a small white spiral-shaped germ appears on each grain. You can then turn off the heat.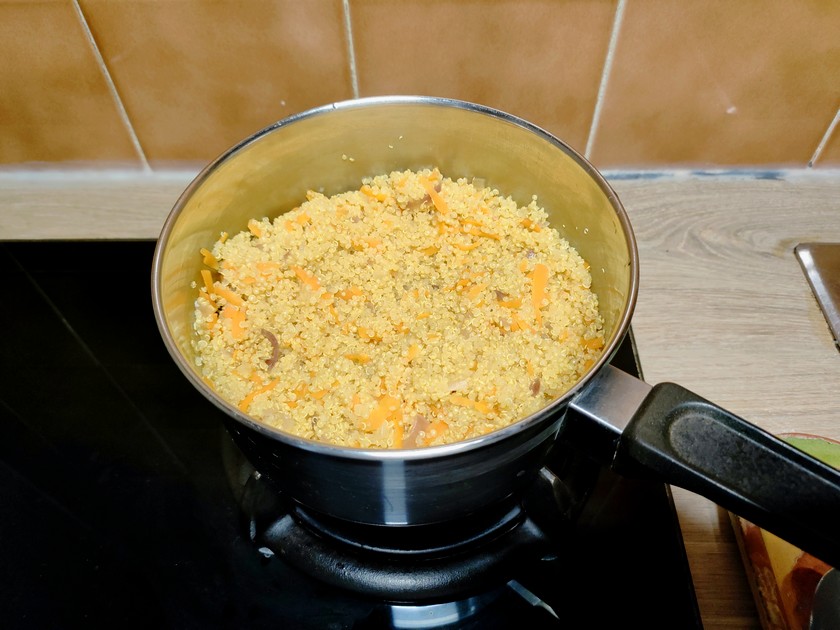 Copyright: Audrey Vautherot
4- Cover the pan and
let it sit for 5 minutes
.
5- You can serve this winter vegetable quinoa as an accompaniment to meat or fish.
Good to know
You can also let this preparation cool and prepare a quinoa salad with winter vegetables.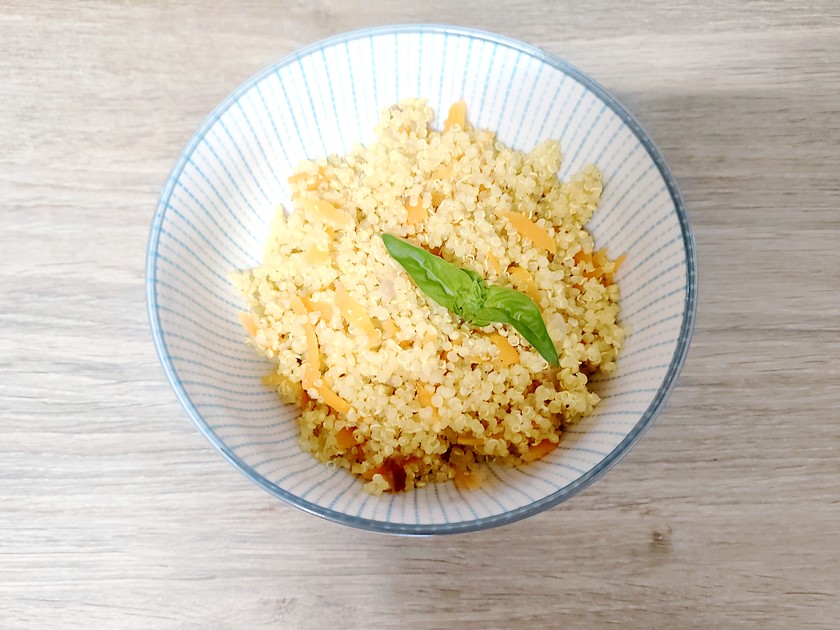 Copyright: Audrey Vautherot
This preparation can notably be used as a base for our recipe for Tuna Quinoa Salad (see link on the right).
To create a
Complete salad
that can be used as a balanced meal, simply add some raw vegetables and, if you wish, a source of protein such as tuna or a soft-boiled egg.
The addition of an animal protein is not essential because this herbaceous plant from the same family as beets and spinach contains
nearly 20% protein
of very good quality.
This small seed that contains the 8 essential amino acids as well as iron, calcium, magnesium and vitamins is a food of choice if you are vegetarian and have decided to do without meat and fish.
Copyright image:
Audrey Vautherot