Spooky Spaghetti: A Recipe For Halloween
On the night of October 31, you can treat little foodies to something other than candy. If you're planning a Halloween-themed meal, try our Spooky Spaghetti with Squid Ink Pasta recipe. This sweetly terrifying pasta recipe is sure to be a hit with kids and adults alike.
Ingredients of the recipe
Here are the ingredients needed to make spooky spaghetti for Halloween for 4 people:

450 g linguine with squid ink
1 can of tomato pulp
2 ground steaks
1 onion
1 clove of garlic
dried oregano
salt and pepper
a jar of pitted green olives
a few dried tomatoes

Preparation of the spaghetti
Making this spooky spaghetti for Halloween is very simple as all you have to do is make express bolognese sauce.

1- Chop the garlic and onion together.

2- Heat the olive oil in a pan and sauté the chopped garlic and onion over medium heat, until soft.

3- Add the crumbled ground steak and season with salt, pepper and dried oregano.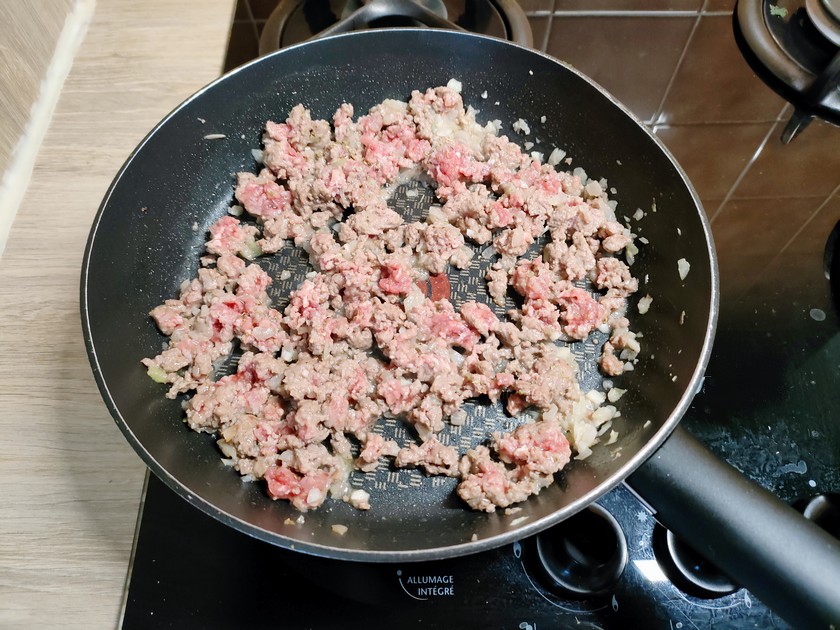 Copyright: Audrey Vautherot
4- When the meat is browned, add the tomato pulp, mix and lower the heat.
5- Let this express bolognese simmer for
about 30 minutes
, over low heat and uncovered, stirring occasionally.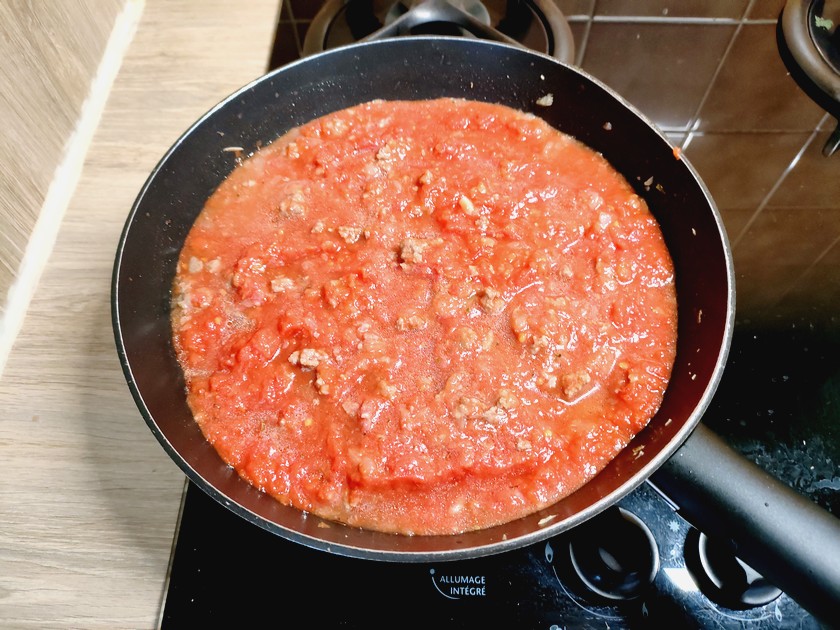 Copyright: Audrey Vautherot
Cooking and decorating spaghetti
While the tomato sauce is simmering, prepare the decor that will make your Halloween spaghetti even more terrifying.

1- Drain 8 pitted green olives.

2- Cut a dried tomato petal into small pieces.

3- Fill each olive with a small piece of dried tomato to form a scary red eye.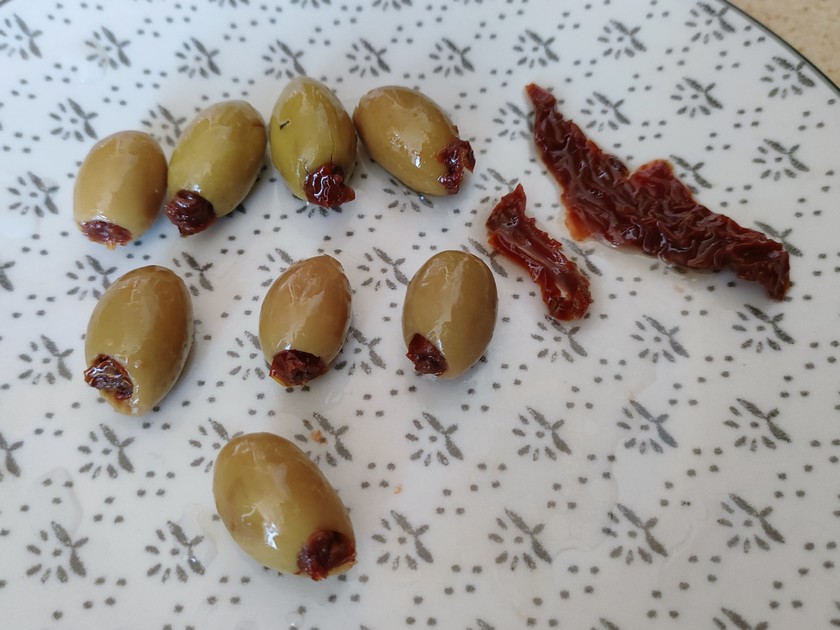 Copyright: Audrey Vautherot
4- Cook the linguine with squid ink in a large pot of boiling salted water, pouring them vertically into the pot like spaghetti.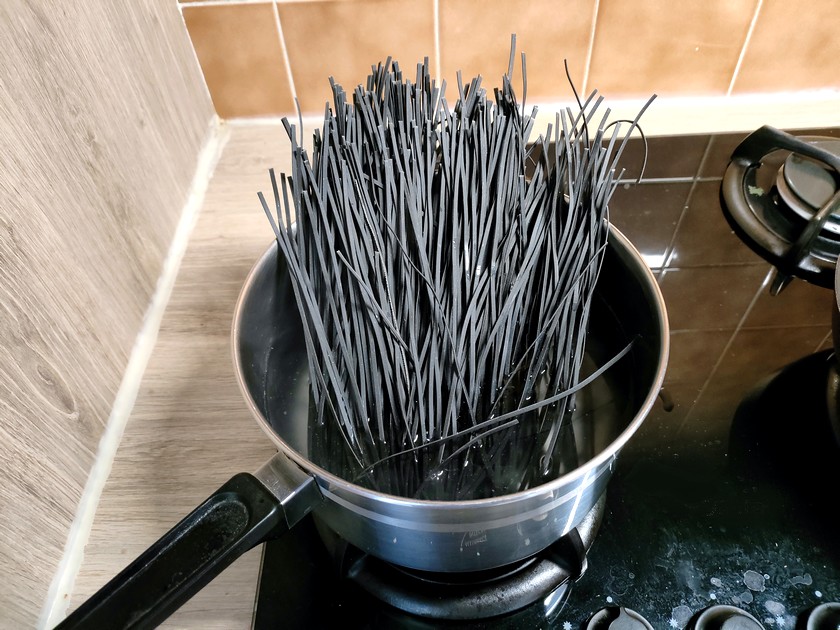 Copyright: Audrey Vautherot
5- According to the instructions on the package, cook this pasta
about 6 minutes
after it resumes boiling. The cooking water will turn all black...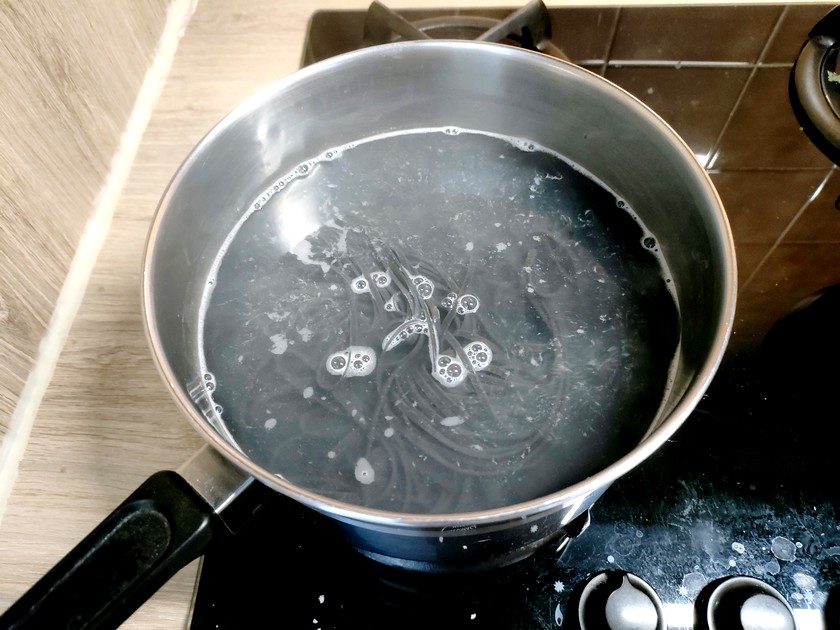 Copyright : Audrey Vautherot
6- Arrange the spooky Halloween spaghetti on the plates by coating the black pasta with two dollops of bolognese sauce.
7- Add two olives in the shape of eyes in each plate and serve (while shouting 'Bouh!', Halloween meal obliges ;-)).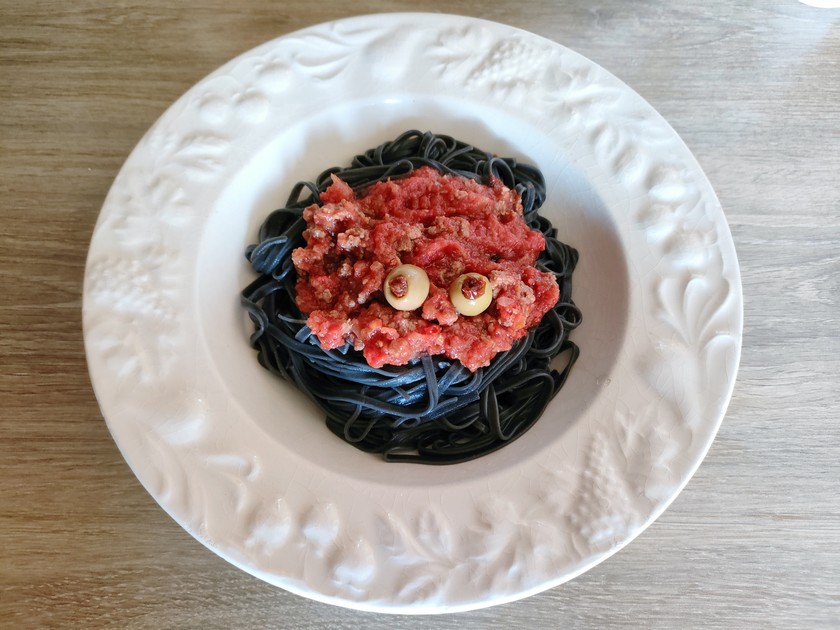 Copyright : Audrey Vautherot
Did you know? cuttlefish ink
Cuttlefish ink is a defense mechanism in this animal. It not only gives a black color to the pasta but also a little iodine taste.

Perfect for making a spooky dish on the night of October 31, cuttlefish ink linguine also pairs well with fish and seafood like Scallops or shrimp.

Copyright image:
Audrey Vautherot