Navarin From The Sea: A Light Holiday Recipe
It's not always easy to reconcile the holiday season with the nutritional recommendations of doctors. For all those who have to watch their figure or their cholesterol level, here is a festive recipe that is as tasty as it is light: navarin from the sea.
Ingredients
Here are the ingredients needed to make a navarin de la mer for 4 people:

2 salmon fillets
2 fillets of White fish such as cod or haddock
250 g of peeled grey shrimps
2 leeks
4 carrots
4 small potatoes
40 cl of vegetable cream made from oats
1 teaspoon of fish stock or a vegetable stock cube
saffron (optional)
2 tablespoons chopped parsley
2 tablespoons of olive oil
salt and pepper

To note: we propose here a basic version with seasonal vegetables, carrots and leeks. But nothing prevents you from adding to this navarin small button mushrooms, zucchini and, for an even more festive version, small Scallops without coral.


Preparation
The preparation of the navarin of the sea is rather easy.

1- Start by preparing all the vegetables. Wash and sort the leeks carefully, keeping the white and the lighter green parts. Thinly slice the leeks and set aside.

2- Peel and wash the potatoes and carrots. Cut the carrots into slices and the potatoes into small cubes.

3- If you are using unpeeled shrimp, peel them. Cut the fish fillets into 2 cm cubes.

4- Dilute the fish stock or the vegetable stock cube in 25 cl of boiling water, add the saffron and keep the stock warm.


Cooking
1- Heat the olive oil in a casserole dish and brown the chopped leek. Season with salt and pepper.

2- Add the carrot slices and the diced potatoes successively, mixing well with each addition.

3- Sauté all the vegetables over medium heat for 5 to 10 minutes, then lower the heat and add the vegetable oat cream.

4- Pour in the saffron-scented vegetable or fish stock so that the vegetables are completely covered with liquid.

5- Simmer on low heat for another 15 minutes or so until the vegetables are cooked to your liking.

6- About ten minutes before serving, add the fish cubes and raw shrimp, immersing them well in the liquid. Turn the shrimp and fish pieces after a few minutes so that they cook well on all sides.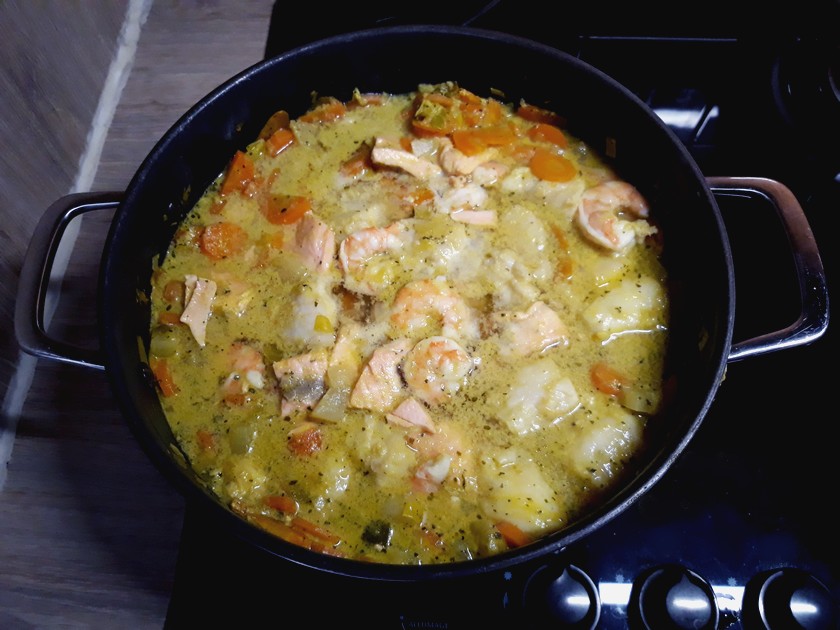 Copyright: Audrey Vautherot
7- Just before serving, rectify if necessary the seasoning in salt and pepper, sprinkle this navarin of the sea with chopped parsley and serve hot.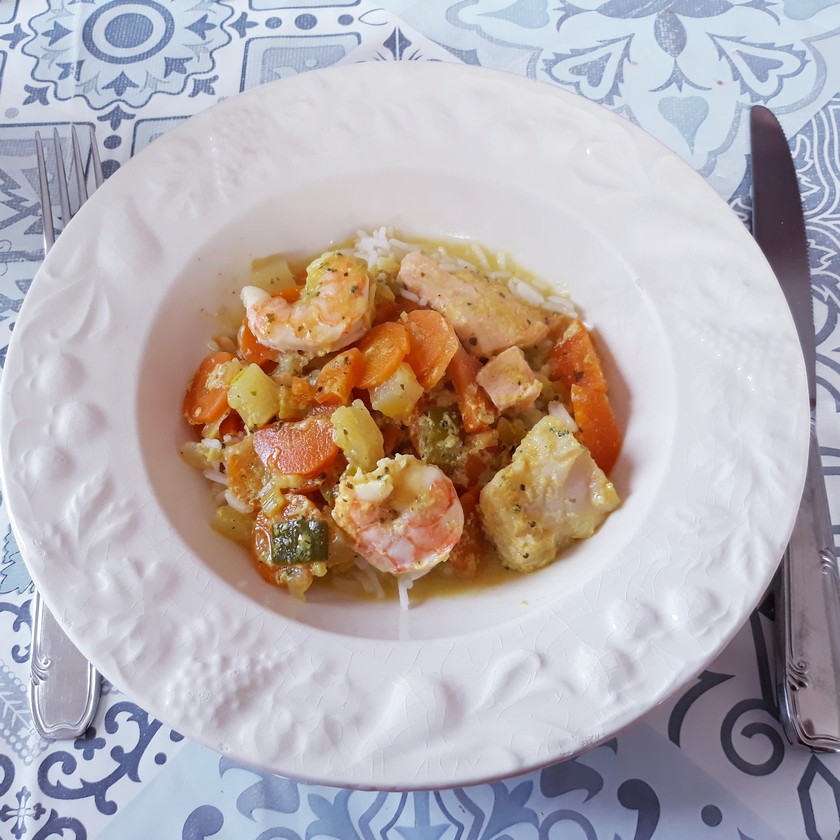 Copyright: Audrey Vautherot
Copyright image:
Audrey Vautherot