White Fish Papillote With Citrus Fruits: A Tasty Recipe
Who said that fish en papillote was necessarily bland? With his recipe for fish en papillote with verbena and acidulated butter, Cyril Lignac proved us wrong on the program Tous en cuisine! To reconcile you with steamed fish, we offer you a simplified version of the chef's recipe: white fish papillote with citrus fruits.
Ingredients
Here are the ingredients needed to prepare a white fish papillote with citrus for 4 people:

4 white fish pavés (cod, hake or hake type)
2 organic yellow lemons
2 organic oranges
1 handful of dried verbena
1 dash of olive oil
4 tablespoons of water
100 g of cold butter
5 cl of full cream
salt and pepper


Preparation of the papillote
Unlike Cyril Lignac, I cooked this white fish papillote with citrus fruits in a steamer and not in the oven.

1- Prepare a large sheet of parchment paper, measuring twice the width of your steamer basket.

2- Wash and dry the citrus fruits. Use a lemon and an orange to cut 4 nice slices of orange and 4 slices of lemon. Reserve the remaining orange and lemon for the sauce.

3- Place the parchment paper in the basket of your steamer, leaving half of the paper hanging out.

4- Place the white fish on one half of the baking paper.

5- Add the lemon and orange slices to the fish, half of the dried verbena leaves, a drizzle of olive oil, salt and pepper. Add a few spoonfuls of water to the papillote before closing it.

6- Fold the baking paper over itself to form a large airtight papillote.


Cooking
1- Heat water in your steamer before placing the basket containing the papillote.

2- Cook this citrus white fish papillote for 10 minutes.

3- After 10 minutes, don't hesitate to open the papillote to check the cooking with the tip of a knife.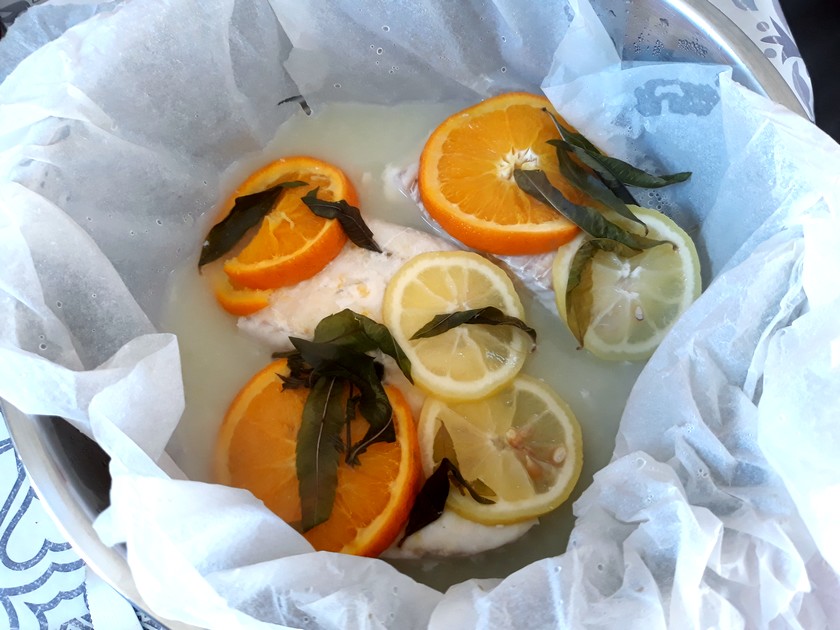 Copyright : Audrey Vautherot
Preparation of the sauce
Meanwhile, you can prepare the lemon butter sauce following the recipe given by Cyril Lignac in Tous en cuisine :

1- Squeeze the remaining lemon and orange and pour the juice into a small saucepan. Add the remaining verbena leaves if you wish.

2- Bring to a boil and let the juice reduce by half.

3- Remove the vervain leaves and add the cold butter, cut into small cubes.

4- Boil while whisking until the sauce thickens.

5- Add the cream at the end and season with salt and pepper.

6- Serve the white fish with citrus fruits that you have cooked in foil with the lemon butter sauce and a vegetable of your choice.

Unlike Cyril Lignac, I did not accompany this steamed fish with peas but with spinach.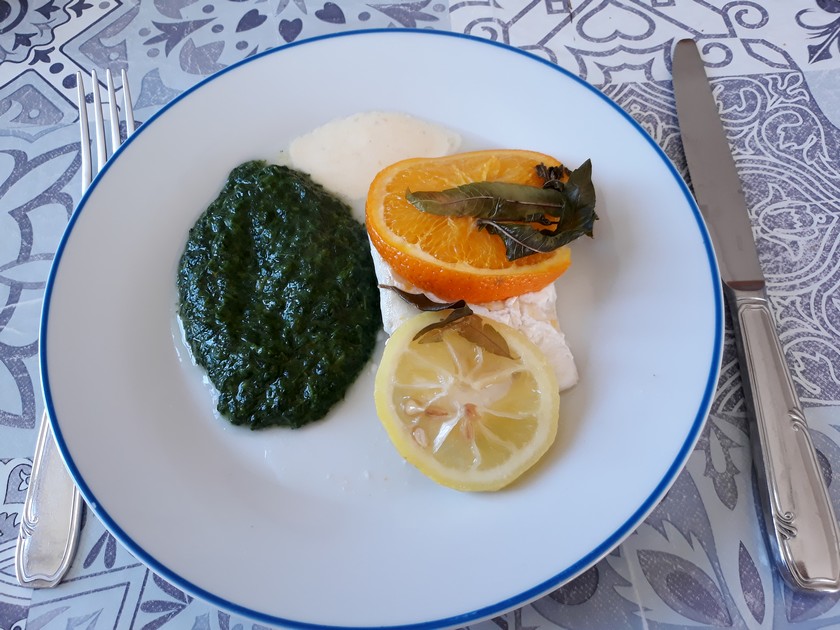 Copyright: Audrey Vautherot
Copyright image:
Audrey Vautherot