Coconut Curry Sauce For Pasta: An Anti-waste Recipe
If you have a bowl of tomato sauce left in the fridge but don't have enough to season pasta, try our coconut curry sauce recipe! This easy recipe is perfect for avoiding waste and can be adapted to whatever you like, depending on the ingredients you have in your fridge and cupboard.
Ingredients
Here are the ingredients needed to make coconut curry sauce for pasta for 4 people:

a bowl of tomato sauce (preferably homemade)
20 cl of coconut milk
curry powder
1 level teaspoon of ginger powder
chopped chives
4 fish fillets of your choice (salmon, hake, cod or haddock for example).

To note: you can replace the fish with grey shrimp, i.e. raw.


Preparation
The preparation of the coconut curry sauce for pasta is very simple.

1- Heat a frying pan or a sauté pan without adding fat.

2- Sprinkle the entire surface of the pan with curry powder and add the ginger. Let it heat for a few minutes to torrefy the spices.

3- When the curry and ginger exude their fragrance, add the coconut milk and mix well.

4- Add the bowl of homemade tomato sauce and bring this mixture to a small boil.

5- Cut the fish fillets into cubes of about 2 cm square and set aside.


Cooking and finishing
1- Cook the pasta of your choice in a large volume of salted water.

2- About 5 minutes before serving the pasta, add the fish cubes (or shrimps) in your coconut curry sauce.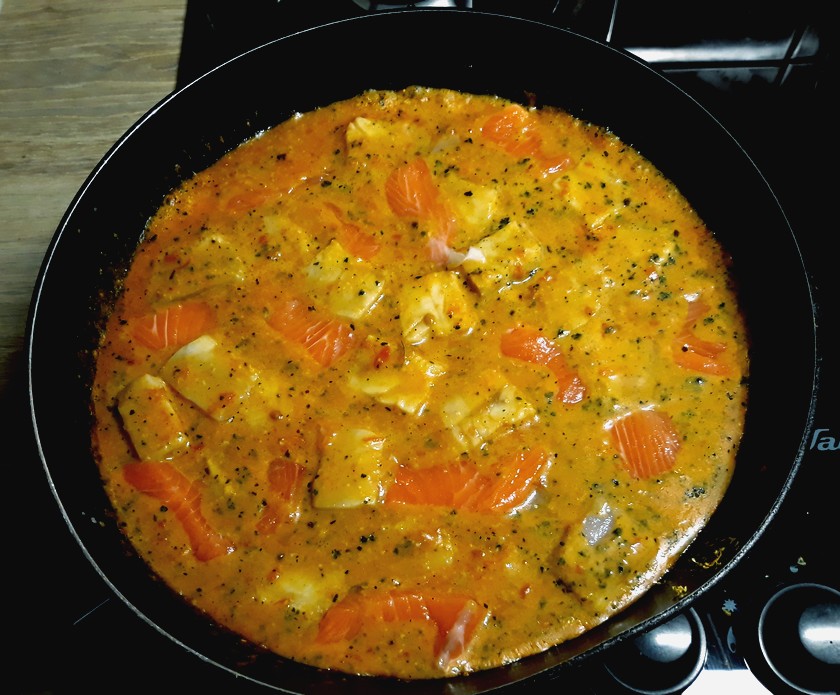 Copyright : Audrey Vautherot
3- Cook the pieces of fish in the sauce, at a low boil, turning them after a few minutes so that they cook well on all sides.
4- Just before serving, sprinkle your coconut curry sauce for the pasta with chopped chives.
Copyright: Audrey Vautherot
5- Mix this creamy sauce with your al dente cooked pasta and serve immediately. This comforting dish is best served hot.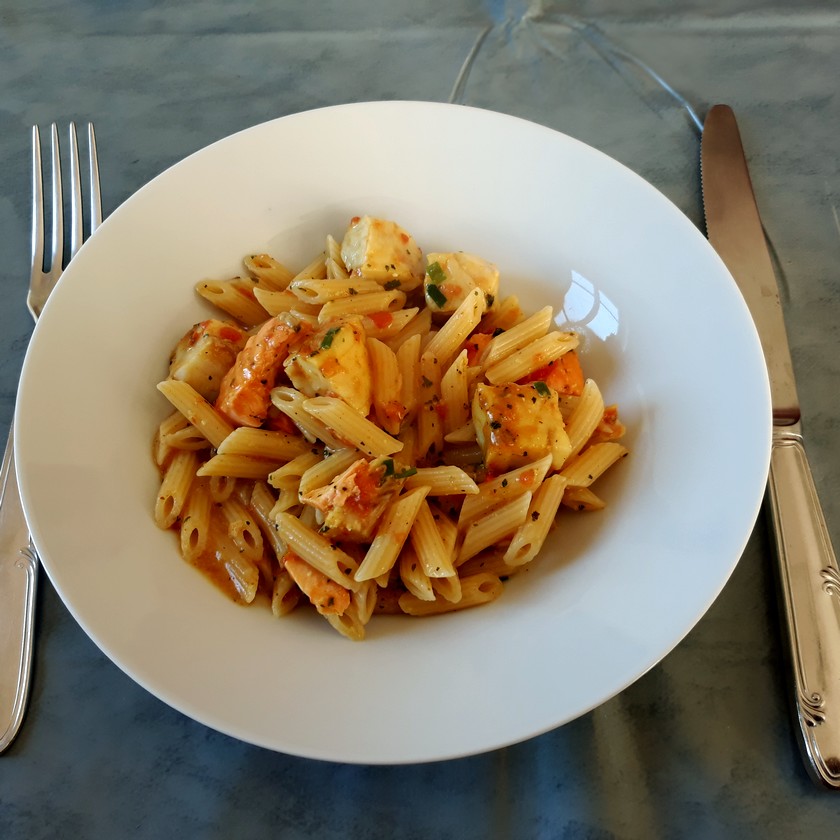 Copyright : Audrey Vautherot
Copyright image:
Audrey Vautherot