Sesame Seed Bread: A Very Easy Recipe
Perhaps you have never dared to make your own bread. If you think it is very complicated, the following recipe will change your mind! We suggest you discover a very easy recipe to make your own sesame seed bread.
Ingredients
Here are the ingredients needed to make a round sesame seed loaf about 24 cm in diameter:

250 g flour T65
100 g organic wholemeal flour T150
1 sachet of baker's yeast
1 level teaspoon of salt
1 tablespoon of sugar
20 cl warm water
2 tablespoons of olive oil
2 tablespoons sesame seeds
a little oil for the mould


Preparation of the dough
You can prepare the dough for this sesame seed bread by kneading it by hand, with an electric mixer with dough hooks or in a food processor.

1- In the bowl of your food processor or in a large container, pour the two flours.

2- Make a well and add the yeast, salt and sugar in the centre.

3- Add the warm water and start kneading, by hand, with a mixer or in a food processor for 5 minutes.

4- Add the olive oil and sesame seeds and continue kneading for a few minutes.


Bread shaping
1- As soon as the bread dough forms, remove it from the bowl of the food processor or the container and place it on your floured work surface.

2- Shape it into a smooth ball of dough, then flatten it with the palm of your hand to give it the shape of a round, flat loaf of bread about twenty centimetres in diameter.

3- Using a fork, prick the center of the bread 3 times from side to side.

4- Lightly flour the resulting loaf, then place it in an oiled 24-cm diameter springform pan.

5- Cover the tin with a clean tea towel and leave the sesame seed bread to rise in a draft-free place for at least 45 minutes.


Cooking
1- Preheat your oven to 200°C.

2- Bake this sesame seed bread for 25 minutes, on the fan heat setting.

3- Let it cool down before eating.

To note: this bread will keep for several days if you wrap it in a clean tea towel.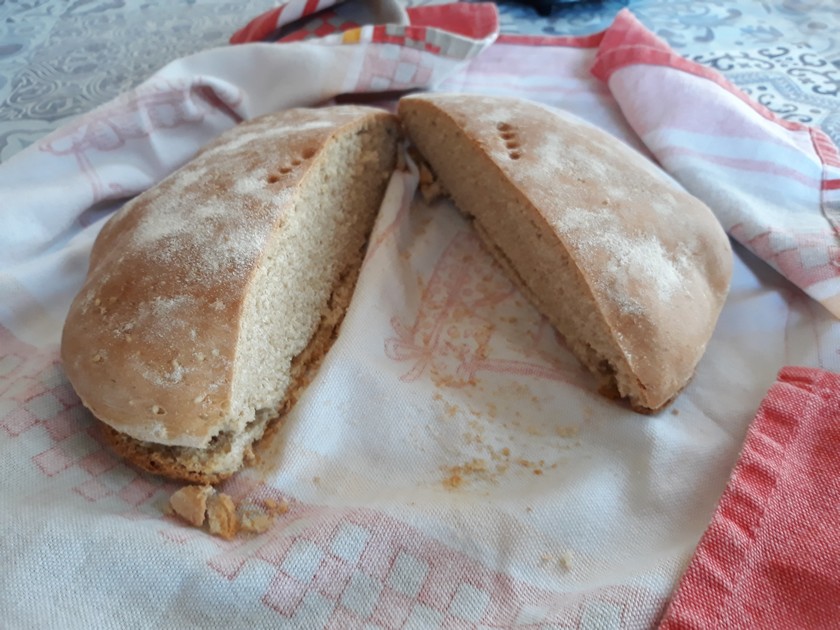 Copyright: Audrey Vautherot
Copyright image:
Audrey Vautherot