Easter Nest With Three Chocolates: An Easy Recipe
To celebrate Easter, the festival of chocolate par excellence, we suggest you revisit the traditional buttercream-based Easter nest in the form of a delicious cocoa-rich cake. Here's an easy recipe to make an Easter nest with three chocolates as pretty as it is delicious.
Ingredients
Here are the ingredients needed to make a Three Chocolate Easter Nest for 6 people:

For the cake
2 vanilla yogurts
1.5 jars of sugar
4 jars of flour
1 packet of yeast
30 g unsweetened cocoa
3 large eggs
half a jar of olive oil
a knob of butter for the mold
half a grated tonka bean (optional)


For the glaze
100 g dark chocolate
3 tablespoons water
1 teaspoon grapeseed oil
40 g milk chocolate
40 g white chocolate
2 tablespoons of milk

chocolate Easter eggs for decoration


Preparation of the cake
This Easter nest with three chocolates is prepared on the basis of a simple yogurt cake flavored with cocoa and baked in a savarin mold (crown-shaped mold).

This Easter cake is easy to make, but it is best to prepare it the day before so that the icing has time to dry.

1- Pour the yogurt into a bowl and keep a jar to measure the other ingredients. Wash and dry the measuring jug carefully.

2- Add the sugar, then sift in the flour, baking powder and cocoa.

3- Alternate these dry ingredients with the whole eggs, mixing well with each addition to obtain a homogeneous paste. Flavor the cake by grating half a tonka bean into the batter (optional).

4- Add the olive oil last and mix well.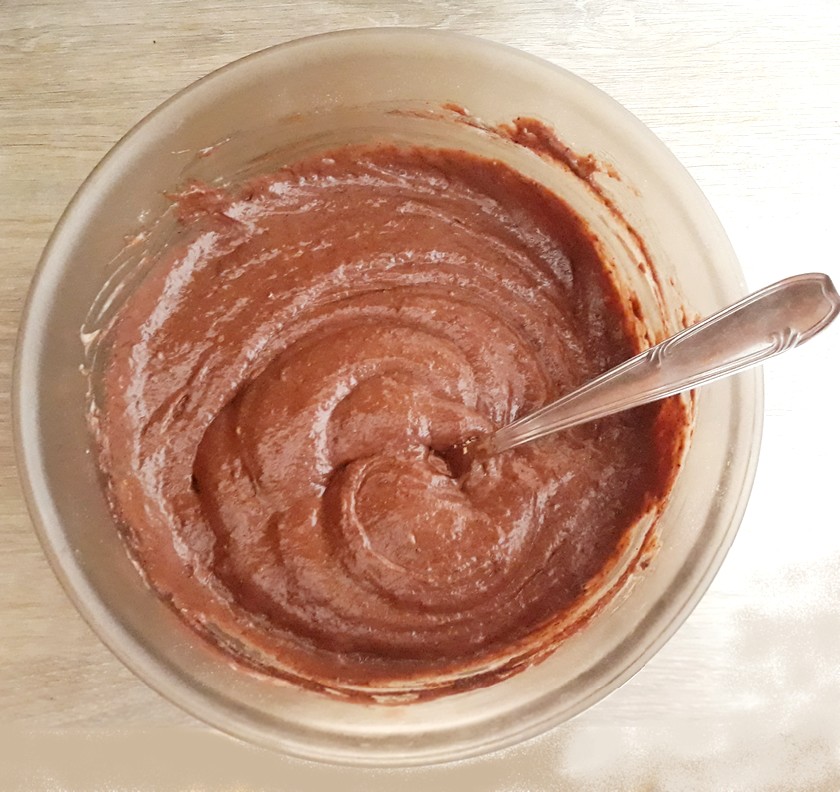 Copyright: Audrey Vautherot
5- Preheat your oven
to 150°C
.
6- Pour the batter into a buttered crown mold.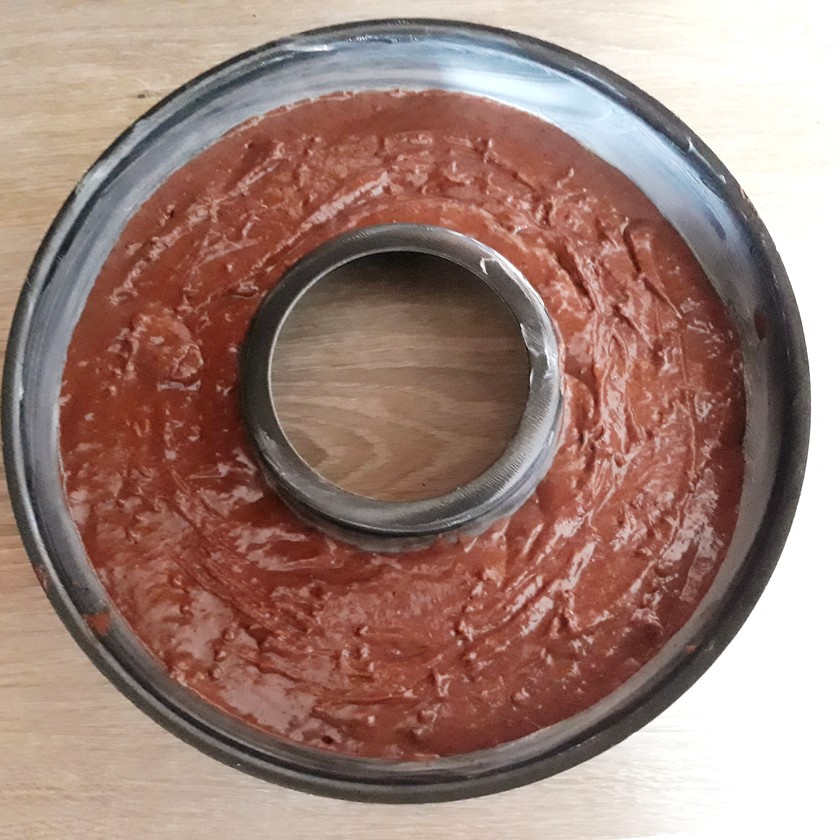 Copyright : Audrey Vautherot
7- Bake this cocoa crown cake
for 40 minutes
and let it cool before unmolding it onto a wire rack.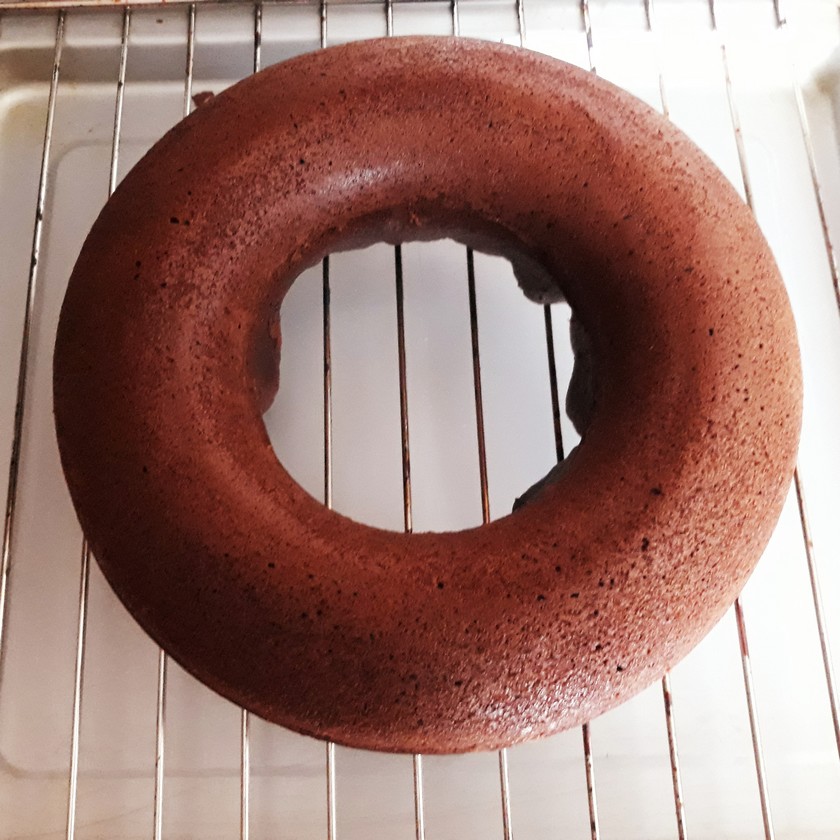 Copyright: Audrey Vautherot
Preparation of the glaze
While the cake is cooling, prepare a dark chocolate mirror icing.

1- Break the dark chocolate into a small saucepan and add 2 tablespoons of water.

2- Melt over very low heat, stirring constantly. At the end of cooking, add a tablespoon of cold water if the glaze seems too thick.

3- When the chocolate is well melted and shiny, turn off the heat and add the grape seed oil off the heat. Your glaze should be very smooth and shiny.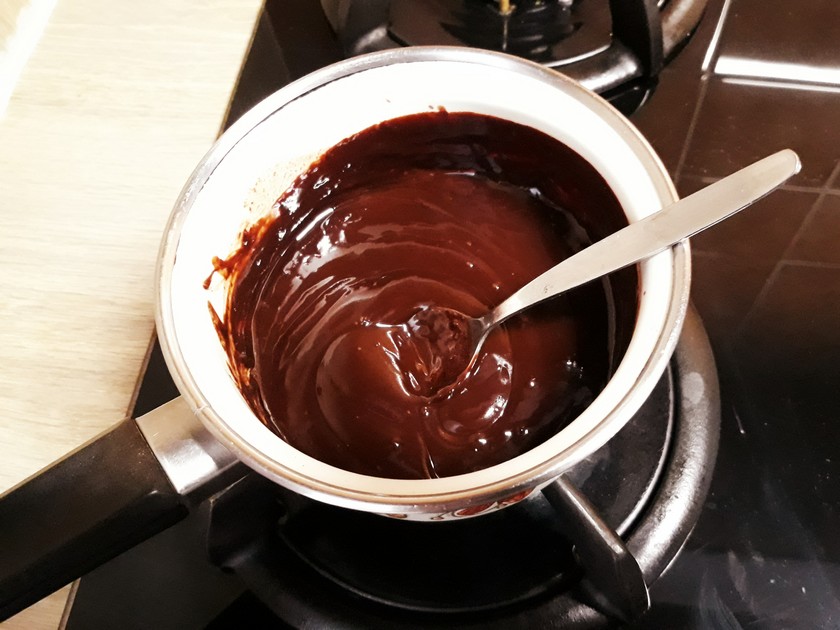 Copyright: Audrey Vautherot
4- Pour this frosting over the chilled crown cake, using a soft marysee to spread it evenly.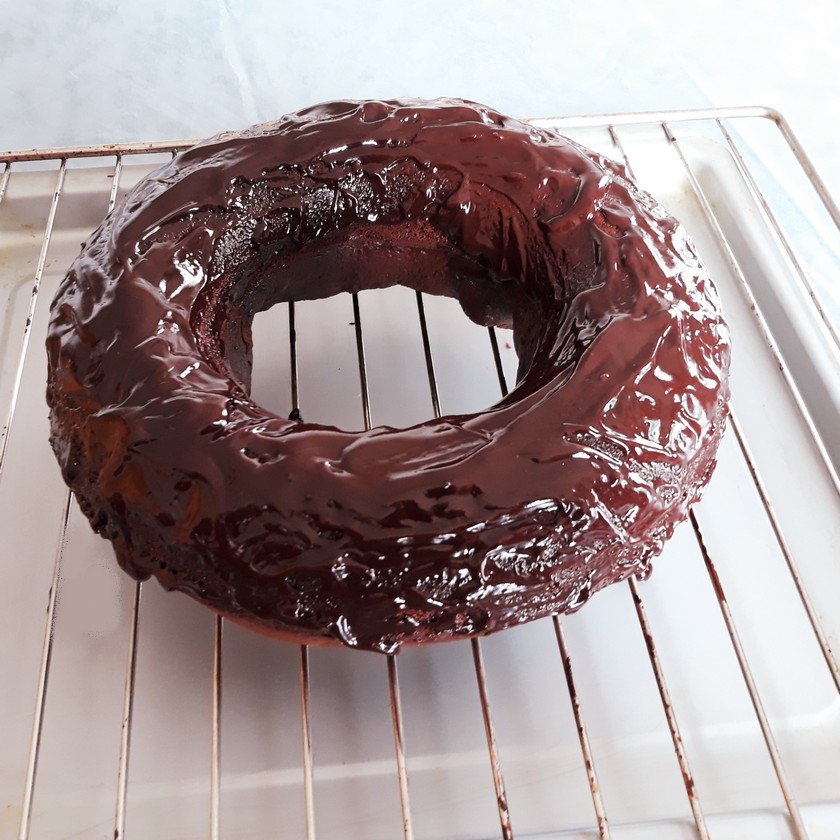 Copyright : Audrey Vautherot
5- Let set for about 15 minutes, the time it takes to melt the white and milk chocolates.
6- Melt the milk chocolate over very low heat with a tablespoon of milk, stirring constantly.
7- Using a feathered spoon or a simple teaspoon, drizzle the milk chocolate all around the crown.
8- Repeat steps 6 and 7 with the white chocolate until your three-chocolate Easter nest looks like the picture below.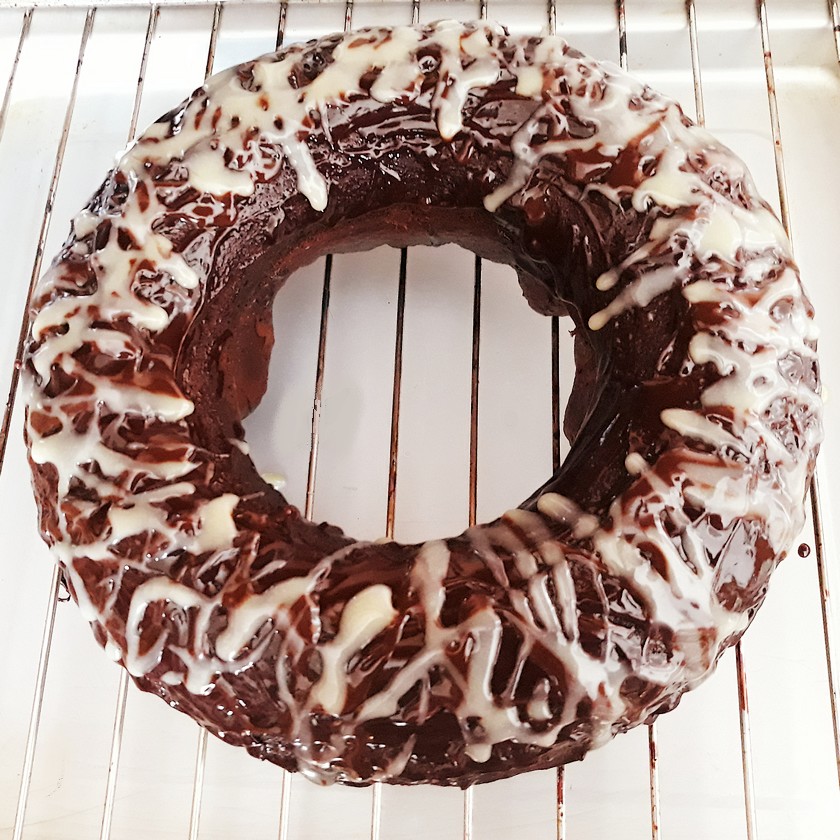 Copyright: Audrey Vautherot
Decor
1- Let the three chocolate icing dry overnight. The milk and white chocolate drips will come out as it dries.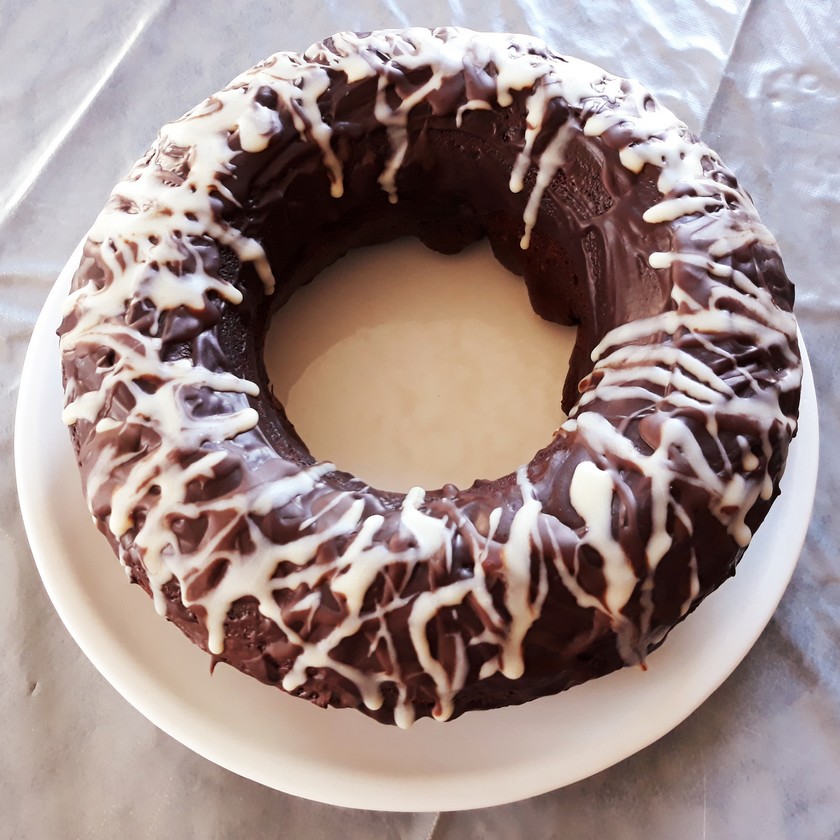 Copyright: Audrey Vautherot
2- Put the finishing touches on your three chocolate Easter nest by filling it with multi-colored Easter eggs.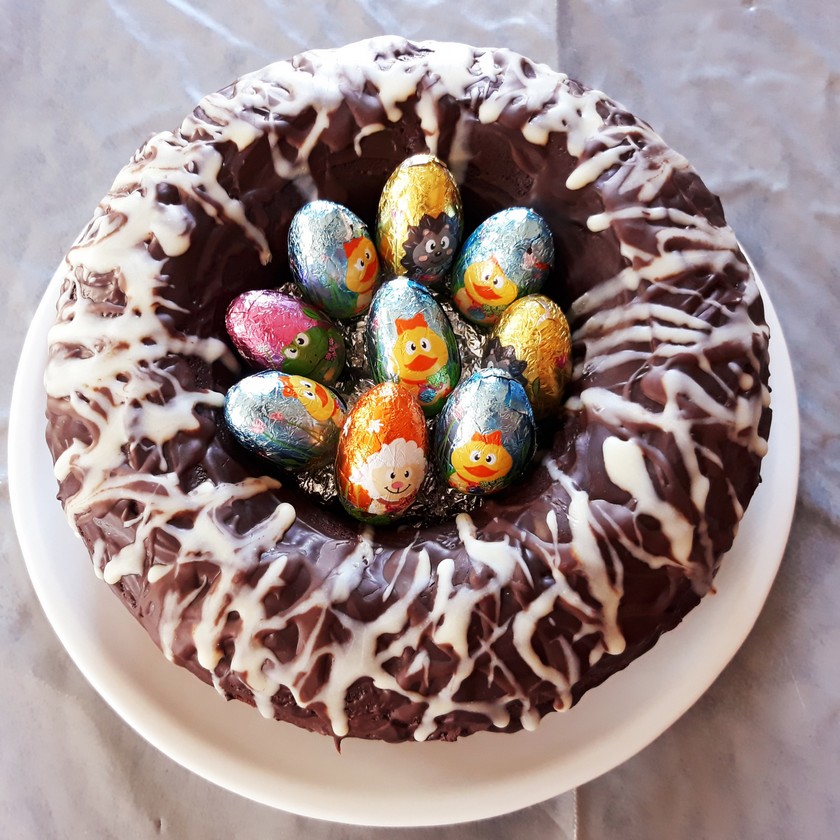 Copyright: Audrey Vautherot
Happy Easter to all!
Copyright image:
Audrey Vautherot