Salmon Poke Bowl: An Easy Recipe
If you haven't yet caught on to the healthy, gourmet poké bowls from Hawaii, the following recipe might get you started. This salmon poke bowl is easy to make using frozen rice and raw vegetables. It is even suitable for people who don't like raw salmon as I suggest you prepare it with salmon tataki.
Ingredients
Here are the ingredients needed to make a salmon poke bowl for 2 people:

300 g of brown rice, green lentils and red Quinoa (sold at Picard)
2 salmon steaks without the skin
1 ripe avocado
half a cucumber
1 bunch of radishes
1 carrot
2 tablespoons of soy sauce
1 tablespoon of honey
1 pinch of ginger powder
sesame seeds


Preparation of the rice
To make this homemade salmon avocado poke bowl easier, I used a mixture of brown rice, green lentils and frozen red quinoa.

1- Cook this mixture according to the instructions on the package.


Copyright: Audrey Vautherot
Failing that, you can cook rice and season it with a drizzle of olive oil.
2- Let the rice or mixture cool
at room temperature
before dividing it into the bottom of two bowls.
Preparation of the salmon tataki
1- Mix the soy sauce with the honey and ginger.

2- Marinate the salmon steaks in this mixture for 15 minutes.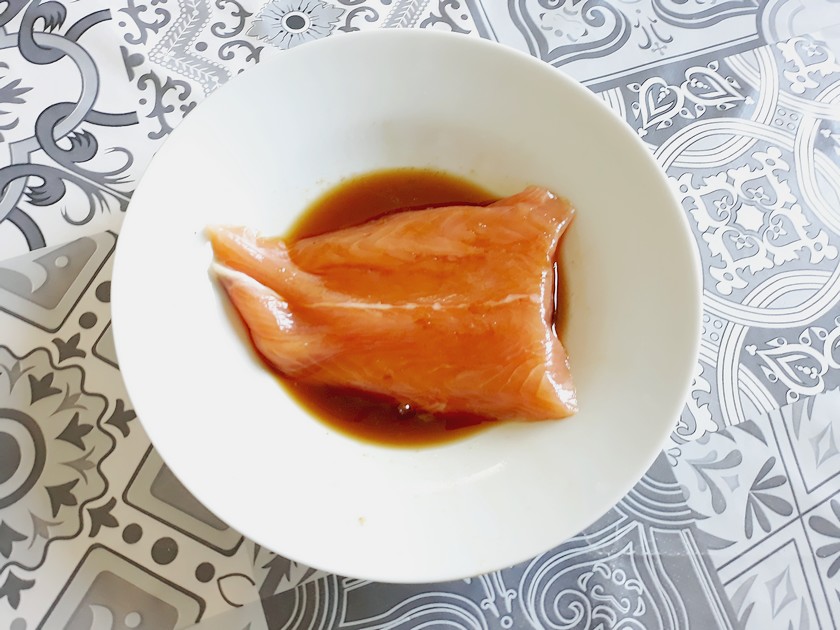 Copyright: Audrey Vautherot
3- Drain the cobblestones and pass them in a soup plate filled with sesame seeds to bread them.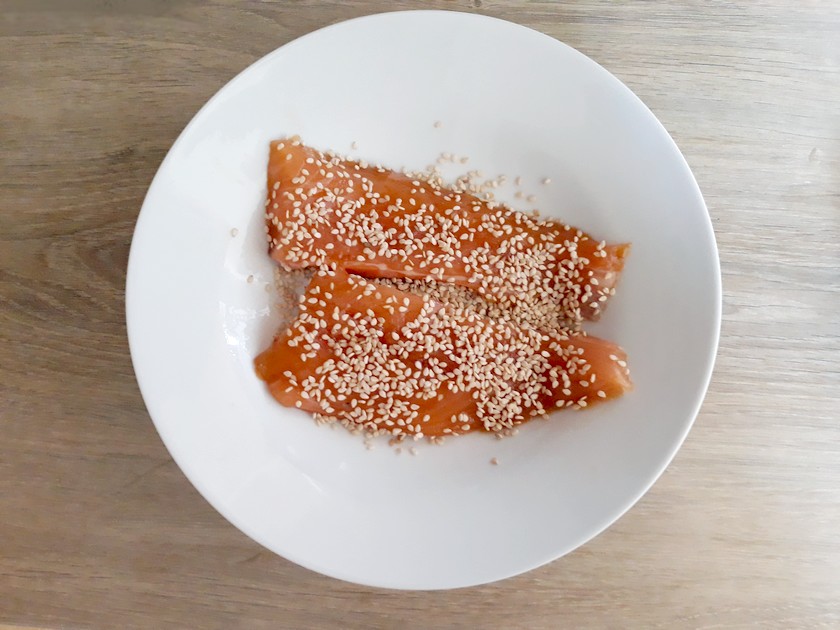 Copyright: Audrey Vautherot
4- Cook them in a very hot pan without adding fat. Count
1 minute on one side and 30 seconds on the other side
so that the salmon tataki is seared on the outside and pink on the inside.
5- Slice the salmon before assembling the salmon poke bowl.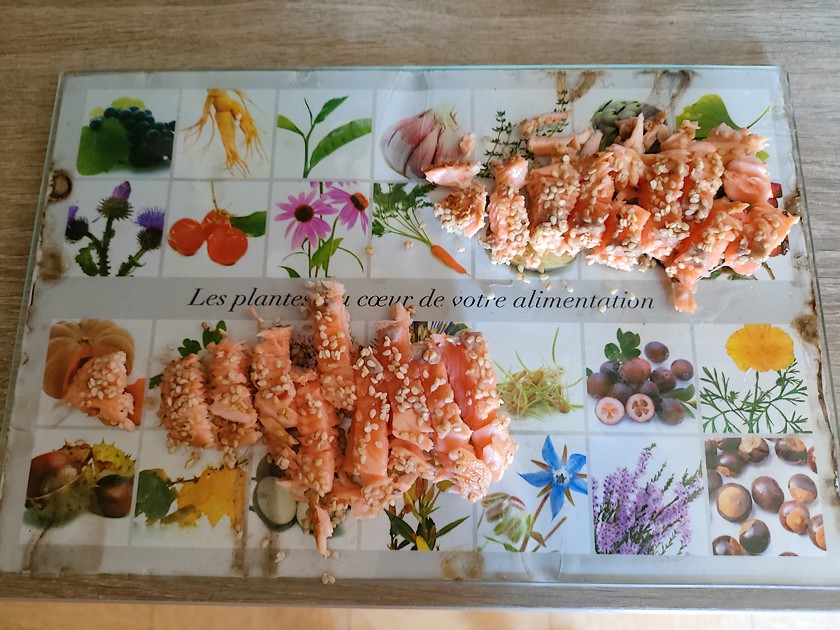 Copyright : Audrey Vautherot
Assembly of the poké bowls
1- Peel the carrot and cut it into strips with a paring knife.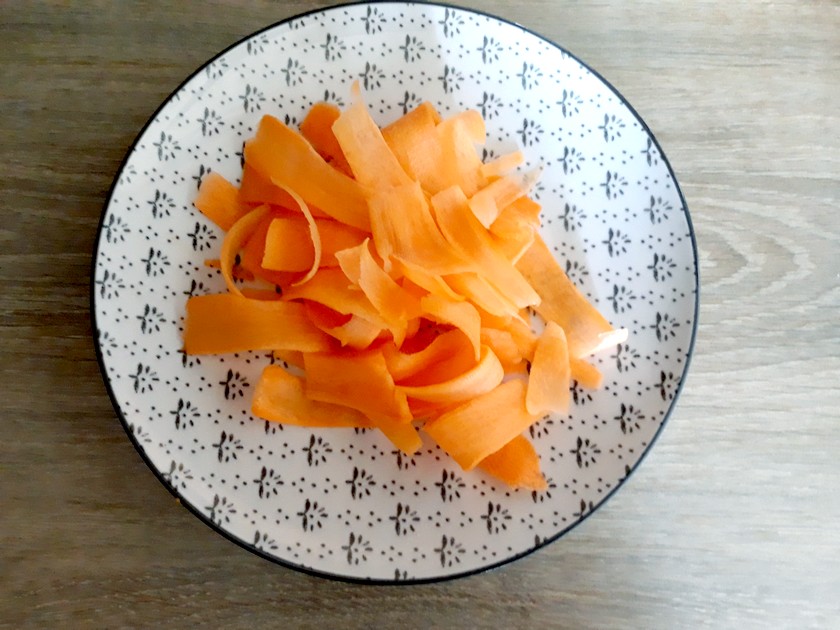 Copyright: Audrey Vautherot
2- Peel the cucumber and slice it into rounds. Also slice the radishes.
3- Peel and pit the avocado and cut each half into small cubes.
4- Spread these different ingredients over the rice, rolling up the carrot strips as shown in the photo below.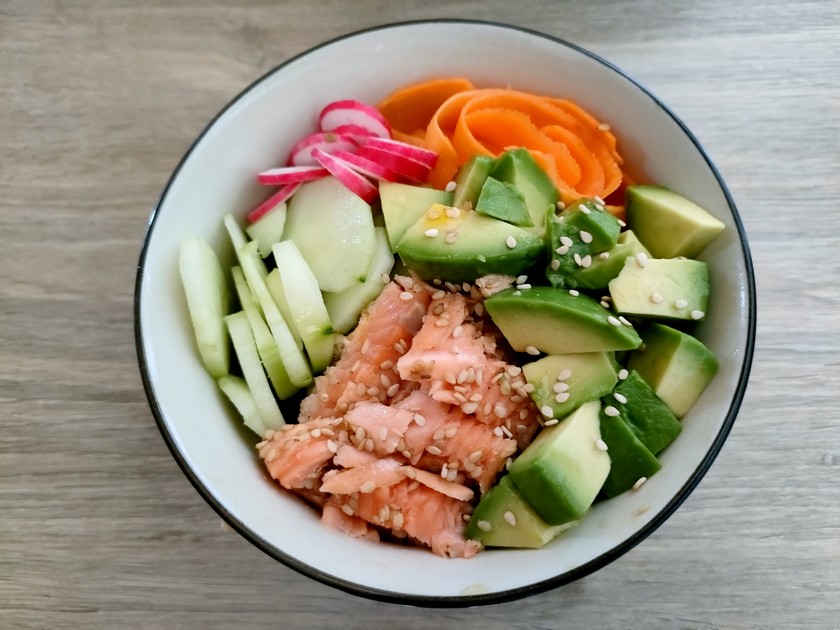 Copyright: Audrey Vautherot
5- Sprinkle each salmon poke bowl with sesame seeds before serving with soy sauce and Asian chopsticks.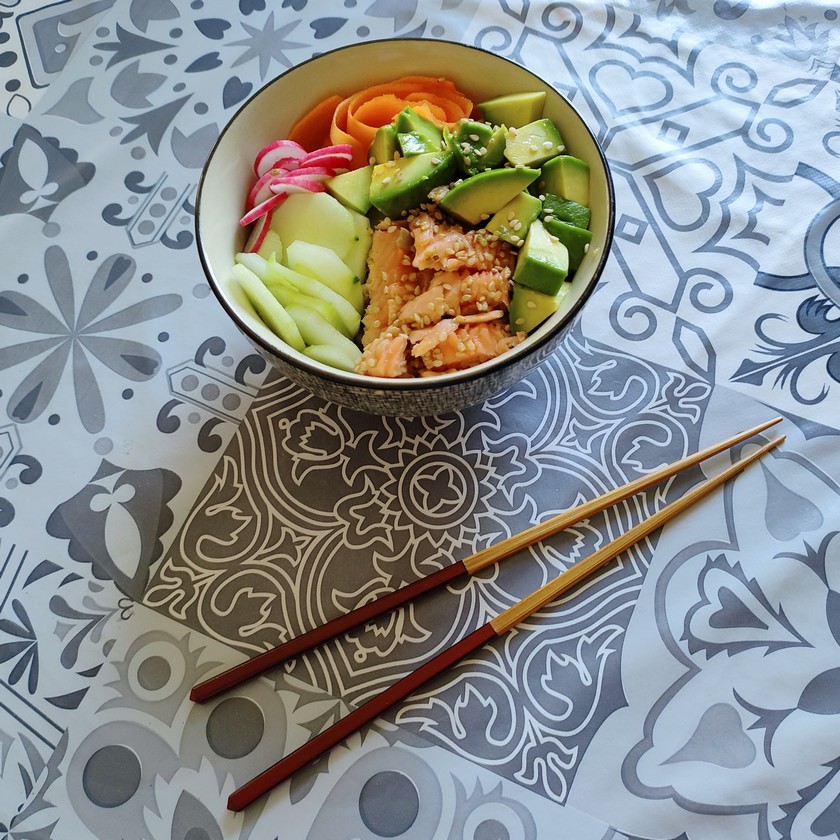 Copyright: Audrey Vautherot
Copyright image:
Audrey Vautherot