Beef Enchiladas: A Mexican Recipe
Looking for a different kind of ground beef recipe? How about beef enchiladas? This Mexican dish consists of tortillas filled with a spicy filling and baked au gratin. It is very tasty and easier to prepare than you think.
Ingredients
Here are the ingredients needed to make beef enchiladas for 4 people:

400 g ground beef
800 g of tomatoes
8 wheat or corn tortillas
1 onion
1 clove of garlic
3 tablespoons of olive oil
2 teaspoons of cumin
½ teaspoon paprika or chili pepper
½ teaspoon garam massala
1 teaspoon garlic powder
chives
salt and pepper
grated cheese (cheddar if possible)


Preparation of the sauce
To make these beef enchiladas, start by making a tomato sauce to top the tortillas.

1- Crumble and peel the tomatoes. Dice half the tomatoes for the filling. Blend the rest to make a coulis.

2- For the tomato sauce, heat a tablespoon of olive oil in a pan.

3- Add the tomato coulis and season with salt, pepper, a teaspoon of garlic powder and a teaspoon of cumin.

4- Simmer for about 30 minutes until the sauce has thickened. Add chives at the end of cooking.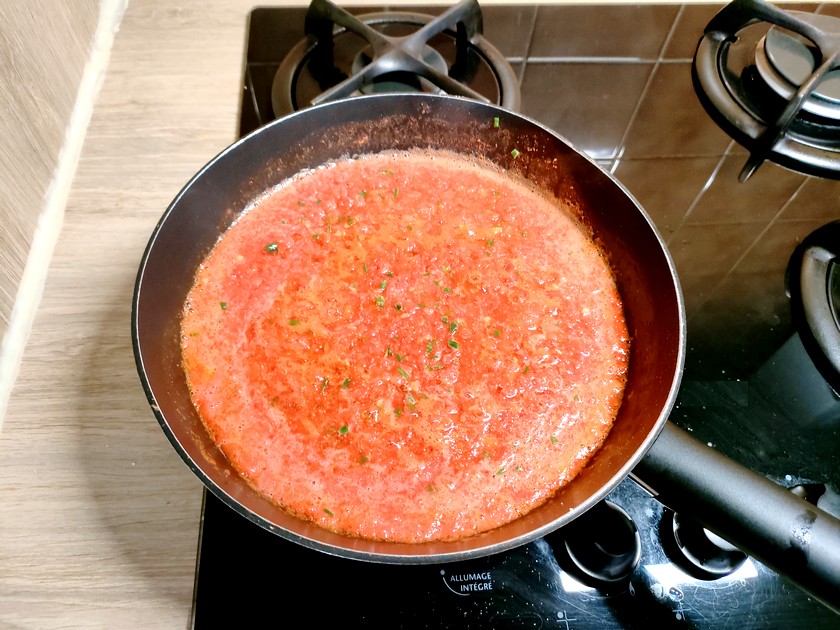 Copyright : Audrey Vautherot
Preparation of the stuffing
The second step of the recipe is to prepare the meat filling that will fill the tortillas.

1- Chop the onion and the garlic clove.

2- In a large frying pan, heat 2 tablespoons of olive oil and sauté the chopped onion and garlic until translucent.

3- Add the ground meat and brown it for about 10 minutes. Season with salt, pepper, a teaspoon of cumin, paprika or chili and garam masala.

Note:If you don't have garam masala, simply add a bay leaf to the mixture.

4- Add the diced tomatoes at the end and let it cook for a few more minutes while stirring, until you get a homogeneous preparation.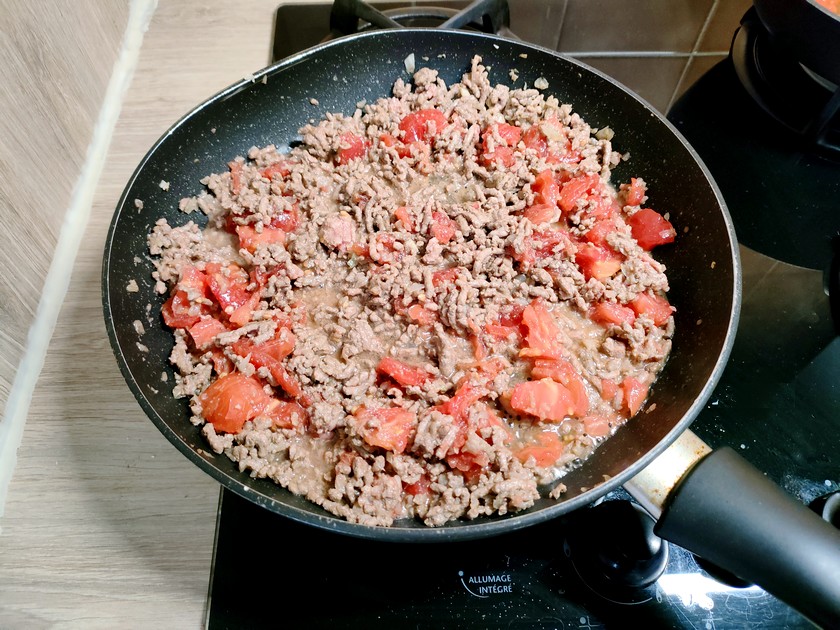 Copyright : Audrey Vautherot
Assembly and cooking
The enchilada is a Mexican pancake filled with a meat-based stuffing, topped with a spicy sauce and baked au gratin. The assembly of this Mexican specialty is not unlike that of the Italian cannelloni.

1- Preheat your oven to 180°C. Pour a little tomato sauce in the bottom of an ovenproof dish.

2- Top each tortilla with the beef filling, before rolling it up and placing it in the dish, placing the opening towards the bottom of the dish.

3- Arrange the rolled tortillas tightly together.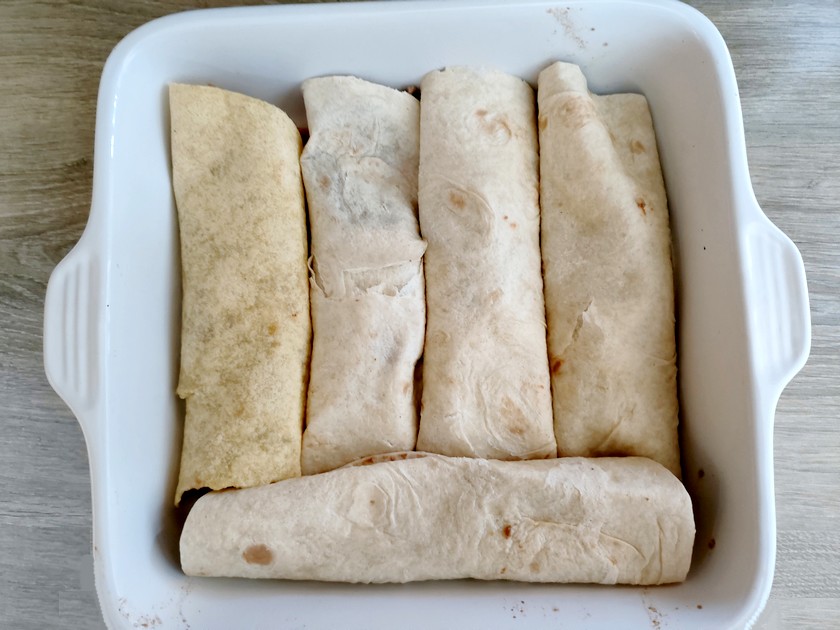 Copyright: Audrey Vautherot
4- Top them with the remaining tomato sauce and sprinkle with a generous layer of grated cheese.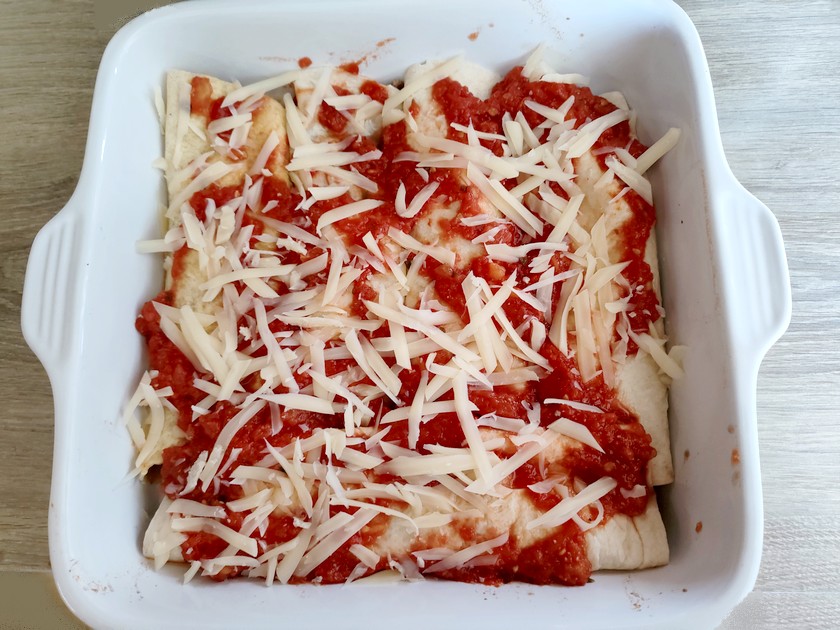 Copyright: Audrey Vautherot
5- Bake for
about 20 minutes
and serve hot.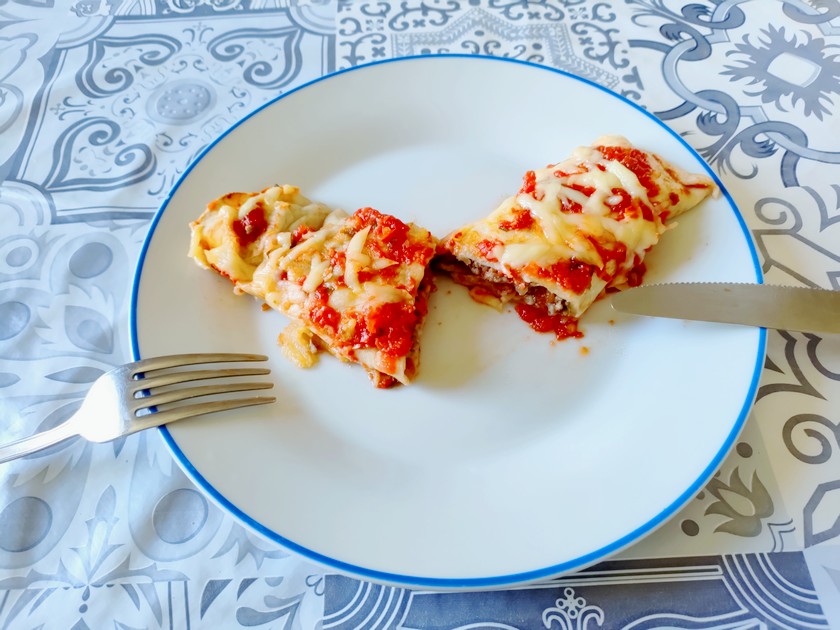 Copyright: Audrey Vautherot
Copyright image:
Audrey Vautherot