Tuna And Vegetable Bricks: An Easy Recipe
Lighter than the traditional tuna and egg bricks, tuna and vegetable bricks are the ideal solution for using leftover vegetables that have already been cooked. I suggest you discover this easy and economical recipe that the whole family will love.
Ingredients
Here are the ingredients needed to make tuna and vegetable bricks for 6 people:

6 sheets of brick pastry
2 cans of tuna in brine
200 grams of already cooked vegetables, for example pan-fried courgettes or leftover ratatouille
a ripe tomato (optional)
a drizzle of olive oil
herbs of your choice: parsley, basil or chives
a tablespoon of cumin
olive oil for cooking


Preparation
The preparation of these tuna and vegetable bricks is very easy.

The first step is to prepare the filling of the bricks by mixing the cooked vegetables with the other ingredients.

1- Carefully drain the tuna and flake it with a fork.

2- Heat a little olive oil in a large pan.

3- Fry your remaining cooked vegetables in the pan over medium heat. In my case, I used pan-fried zucchini slices.

4- If your pan-fried vegetables are too small, add a fresh tomato, peeled and diced.

5- Add the tuna and season with the chopped herbs and cumin powder. Leave to reduce over a low heat until the vegetable juice evaporates.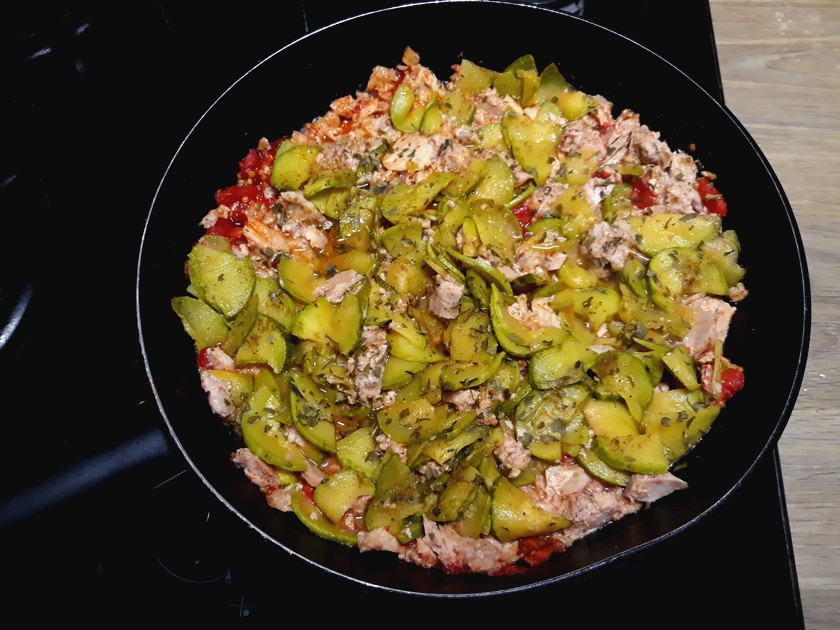 Copyright: Audrey Vautherot
Assembly and cooking
The most delicate step in this recipe for tuna and vegetable bricks is folding the sheets of brick.

It is of course possible to fold the sheets of brick in the shape of a triangle, like samoussas.

For ease, we simply folded them into a square shape.

1- Place one or two tablespoons of vegetable and tuna filling in the centre of each brick pastry.

2- Fold the 4 sides of the sheet over the filling to form a square.

3- Cook the tuna and vegetable bricks in a large frying pan, placing them open side down in very hot oil to seal the turnover.

4- Brown them for about 10 minutes, turning them halfway through. Serve piping hot.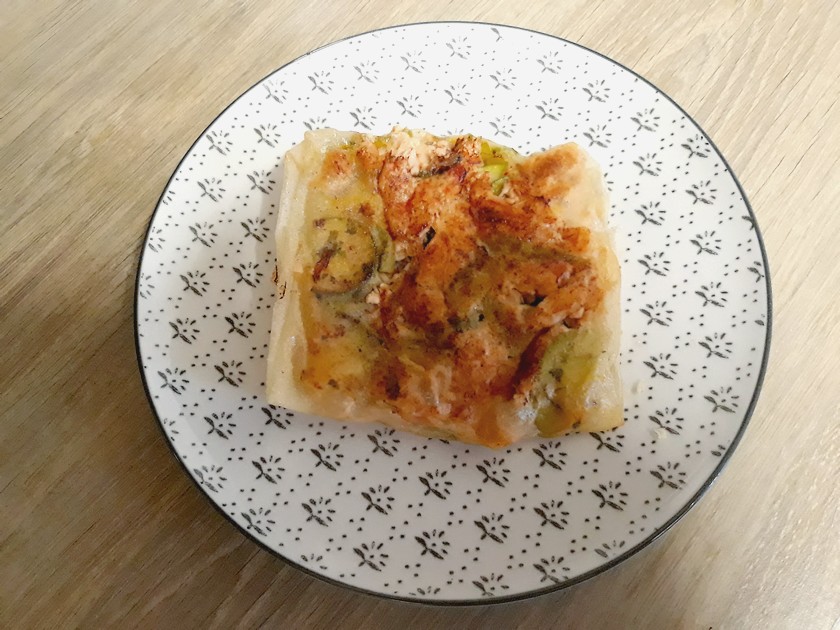 Copyright: Audrey Vautherot
Copyright image:
Audrey Vautherot