The Night Of The Castles: A Magical Event
Whether you are a fervent defender of our heritage or simply curious about history and architecture, don't miss the Night of the Castles! This event, held at the end of October, is an opportunity to discover exceptional heritage sites during night visits.
Torchlight tours
If you've ever dreamed of visiting a medieval castle by torchlight or strolling through the grounds of a Renaissance estate by moonlight, the Nuit des châteaux is for you!

Every autumn for 3 years now, many heritage sites open their doors to you during an exceptional evening.

In the four corners of France and Navarre but also in Spain, Switzerland and Belgium, castles welcome visitors for night visits off the beaten track.

Don't miss this unique opportunity to discover or rediscover magnificent estates dating from the Middle Ages to the 18th century!


A fun way to preserve heritage
The start-up Dartagnans, created in 2015 to support castle owners in the restoration and management of their heritage, is behind this event.

Dartagnans is the first French platform for participatory financing allowing Internet users to make donations to participate in the safeguarding of French heritage (see the website https://dartagnans.fr/).

For the participating sites, the Night of the Castles is a sort of seduction operation aimed at raising public awareness of the need to preserve our heritage.

In addition, 90% of the proceeds from this event are used for the preservation of the monuments you visit on this very special evening.


Unusual animations
The Night of the Castles is also an opportunity for the owners of these exceptional monuments to offer unusual visits. More than a hundred castles throughout France have participated in previous editions.

On this occasion, the castles are pulling out all the stops and planning a program rich in emotion.

The proposed activities are very diverse, for example: an immersive visit to the castle, walks, live shows, a Detective party, a masked ball or even a fireworks display!

Through unusual experiences such as visits by candlelight, concerts and illuminations, you can discover these places steeped in history as you have never seen them before...


Practical information
While the 2020 edition was cancelled due to the Covid-19 pandemic and curfew, Castle Night returns for a 3rd edition on Saturday, October 23, 2021.

During this exceptional night, hundreds of castles located in France, Switzerland, Spain and Belgium will open their doors for you to enjoy an unprecedented night experience.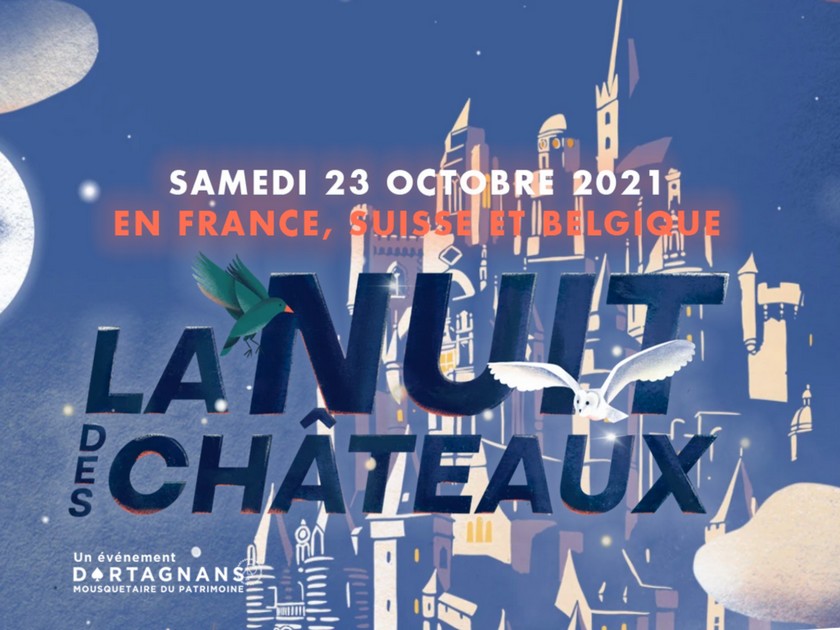 Copyright : Nuit des Châteaux
These visits are chargeable as the proceeds from this event contribute to the preservation of the monuments visited.
To find out more about the participating monuments and the activities offered during the 2021 edition, we invite you to visit the official website of the event (see link below).
Copyright image:
Nuit des châteaux