Pasta Carbonara: The Real Recipe Without Cream
Contrary to what the French often imagine, pasta alla carbonara is not prepared with fresh cream. I suggest you discover the recipe of the real Italian pasta alla carbonara, made with eggs and cheese.
Ingredients
Here are the ingredients needed to prepare real pasta carbonara for 4 people:

500 g of number 5 spaghetti
4 eggs
250 g bacon or pancetta
75 g grated Parmesan or Grana Padano cheese
salt and pepper


Preparation
1- Brown the lardons in a hot frying pan.

2- Meanwhile, cook the spaghetti al dente in a large volume of salted water.

3- Break the eggs into a bowl and beat them into an omelette with the grated Parmesan or Grana Padano cheese. Add pepper and a little salt, as the cheese is already salty.

To note: it is this egg and cheese preparation that will form the sauce for the carbonara pasta by binding with the cooking water of the spaghetti. That's why you don't need to add fresh cream. Now you know the secret of the real pasta alla carbonara!


Assembly and cooking
1- When the spaghetti is cooked, drain it retaining about a bowl of cooking water.

2- Pour the spaghetti into the sauté pan that was used to brown the bacon and heat over low heat.

3- Add the egg and Parmesan or Grana Padano mixture and continue to heat over very low heat, stirring constantly.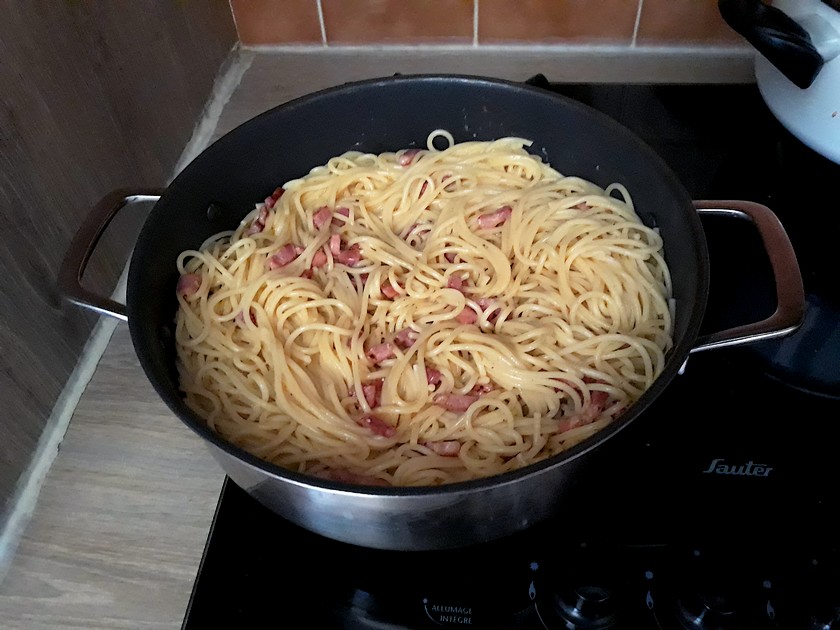 Copyright : Audrey Vautherot
4- If the pasta carbonara seems too dry, gradually add more cooking water so that you get
a creamy consistency
.
5- Serve piping hot, with extra pepper and grated cheese. Enjoy!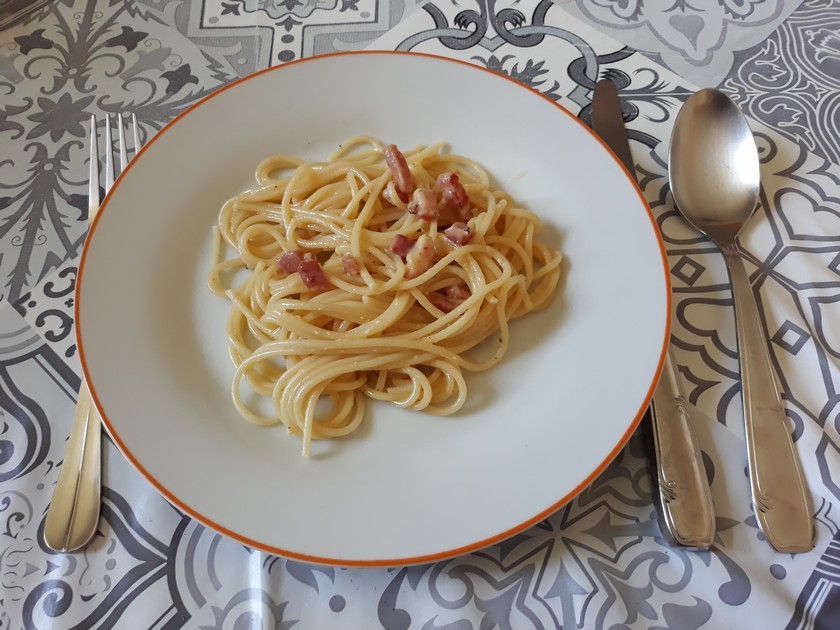 Copyright: Audrey Vautherot
Thanks to Graziella for introducing me to this delicious recipe.
Copyright image:
Audrey Vautherot