Beach: Do You Know The New Swimming Flags?
Since March 2022, the bathing flags that fly on French beaches have been modified to match the international standard. We propose to give you an update on the new flags and their meaning.
Why this change?
By issuing a decree on January 31, 2022, the Ministry of Youth and Sports decided to change the bathing flags on beaches so that they are easier to understand for tourists from abroad.

This new signage in accordance with the international standard has been implemented since March 2022 on beaches and bathing places open to the public, developed and authorized, such as lakes or water bodies.

In order to ensure that users of these bathing places are not too confused, information signs on these new flags are placed before the Beach access and on the aid stations.


What do the new flags look like?
Due to standardization with the international standard, the bathing flags have changed their shape. Now they are no longer triangular but rectangular.

New colors are also making their appearance to signal danger or delineate bathing areas.

For example, while the green (for no apparent danger) and red (for prohibited swimming) flags do not change, the orange flag changes shade.


What's new?
The flag used to alert users to a limited or marked hazard becomes yellow. When the flag is yellow, swimming is still permitted but unsafe.

Swimming is not recommended due to weather conditions, high waves or the presence of jellyfish, for example.


Another color is also making its appearance on the beaches: the purple. The Purple flag is used to alert bathers to water pollution or the presence of dangerous aquatic species such as jellyfish.

This flag complements the red or yellow flag depending on the danger.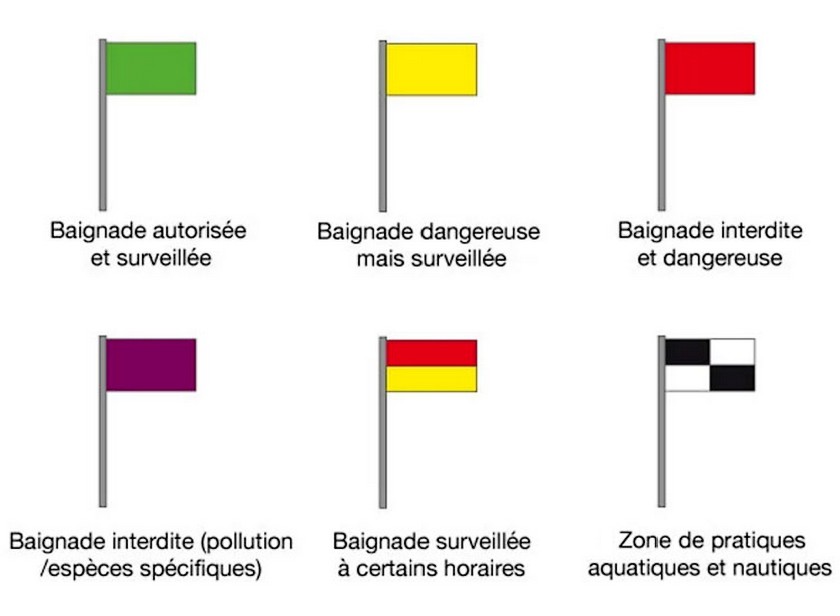 Copyright: Ministry of Youth and Sports
Regarding the delimitation of bathing areas,
a new two-color flag
composed of
two horizontal red and yellow stripes
is now used to delimit the supervised bathing area during the opening hours of the aid station.
As for the
black and white checkered flag
, it signals a boating area where swimming is permitted but risky.
In these areas where other users practice water sports such as surfing, for example, swimming is at the bathers' own risk.
Good to know
It is very important to be aware of these new swimming flags and what they mean in order to prevent the risk of drowning.

In France, nearly 40% of drownings occur at sea in the 300-meter band. There were 436 of these during the 2021 season.

Moreover, contrary to popular belief, the Mediterranean Sea is not less dangerous than the Atlantic Ocean: it is in Occitania and the PACA region that the most drownings are deplored each year.


Copyright image:
MarkBuckawicki