Gold And Silver Wonders: An Exceptional Exhibition In The Abbey Of Mont-saint-michel
This is one of the most eagerly awaited events of the 2021 autumn season: the exhibition Merveilles d'Or et d'Argent (Wonders of Gold and Silver) will be held in the sumptuous setting of the Abbey of Mont-Saint-Michel. It will present rare and precious pieces of silverware. An event that promises to be dazzling!
An exceptional exhibition
The Wonders of Gold and Silver exhibition will bring together in the Salle des Hôtes of Mont-Saint-Michel Abbey some 250 precious objects around the theme of metal.

As its title suggests, the exhibition will present silversmithing objects, some of which are extremely rare.

These pieces from 78 lending organizations are, for the most part, unknown to the general public. The exhibition therefore offers the opportunity to admire many unpublished works from public or private collections.

This event promises to dazzle us with pieces of great beauty and extreme refinement such as crowns, monstrances, chalices, toilet boxes, jewellery or the tiara below: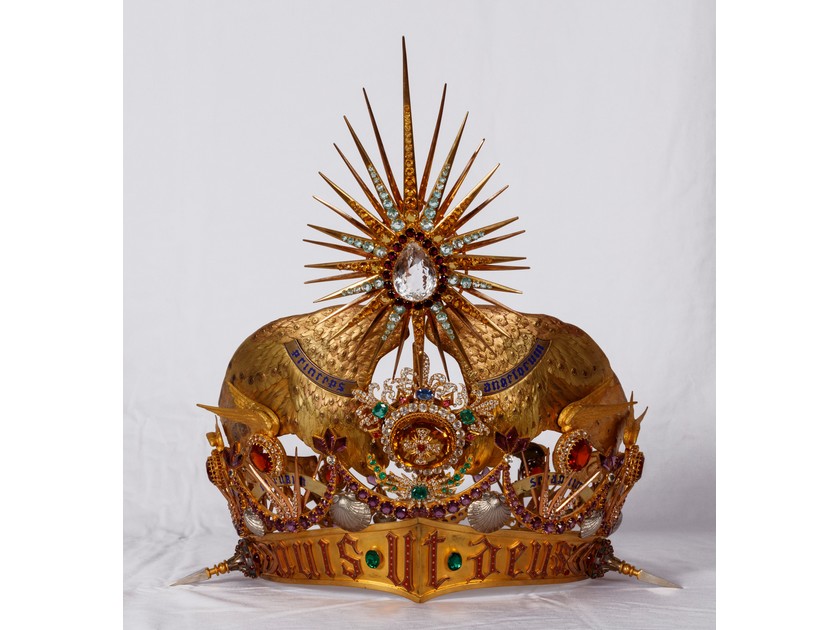 A local know-how
The Merveilles d'Or et d'Argent exhibition is organised by the Manche department, in partnership with the Centre des monuments nationaux.

The result of more than two years of work, it highlights a local know-how. The art of shaping metal is indeed a know-how of excellence in the Manche.

Copper hammering and bell casting have been practiced here for centuries, as well as gold and silver work to create unique pieces of goldsmithing.


A tradition that has lasted for centuries
The pieces that will be exhibited in the Salle des Hôtes of Mont-Saint-Michel Abbey are representative of different eras, ranging from the Middle Ages to the 20th century.

Thanks to the Gold and Silver Wonders exhibition, visitors will be able to learn more about ancient know-how and trades related to metal work.

Come and discover how different craftsmen work such as art founders, pewter potters, tinsmiths or master goldsmiths.

A contemporary showroom, installed in the Sainte-Madeleine chapel (a chapel adjacent to the Salle des Hôtes) will close the scenographic tour.

It will highlight the living heritage companies and contemporary creators of the Manche department, where the history of metal is still alive.






Practical information
The Wonders of Gold and Silver exhibition will be held at Mont-Saint-Michel Abbey from 18 September 2021 to 30 January 2022.

Address
Abbey of Mont-Saint-Michel
50170 Le Mont-Saint-Michel

More information on schedules and prices on the official website below.